Capt. Hollis Forrester
Matagorda Texas Fishing Report
Texas Saltwater Fishing on Matagorda Bay

Call 979-236-3115

capthollisf@gmail.com
Back to Home Page

MATAGORDA BAY FISHING REPORT
Dec 28 --- 12-28-17
Whenever I'm on the water with Roy Crush with the Texas Boy Outdoors and and Little Roy JR I'm always having a blast with these guys! Little Roy put a schooling on myself and Big Roy the first half of the day , the little guy had 6 keeper trout ahead of Big Roy and I the first 3/4 of the day and had myself Andrea Big Roy scratching our heads on what in the heck are we going to do now to catch up with Roy JR, Hahaha! Well we kind of made a little come back on him but Roy all o...f a sudden landed this nice 7 1/4 lb fatty "released" and then Big Roy dug his heals in and kind of planted us all, lol , but Roy JR still kep on landing More Reds and Trout so I'm pretty sure he beat his ol daddy on the numbers side of the deal. All fish were caught on by nothing but the best , Down South Lures by Michael Bosse . What a great boy little Roy is, a very polite young man with the "yes sir and no sir" answers , the kid has a great future ahead of him being as polite and well natured as he is . Anyhow it was an awesome day with these 2 and looking forward to many more days with these fellas and our veteran and first responders trips. One heck of an organization Roy Crush runs no doubt. Also pictured below is Nathan and Rex out of Houston Tx. The goal here was to get Nathan "Rex's son" on some big redfish using artificial lures and the goal was accomplished. Not only did we stick the Redfish we also stuck some beautiful fat Trout using Down South Lures. Nathan had his mind set that he was not going home until it happened, well it didn't take him long. Our Trophy Trout and Redfish months are here so "Lets Do This"
Thanks for reading and don't forget to ask about the """"Winter Time Special"""" I have going on right now" great savings and great fun out here. We are in full winter time mode out here and the fishing is going to remain phenomenal, "January, February and March dates are available, and they are awesome months"! If wade fishing is not your thing we don't have to, I am catching these fish drift fishing or wading and they are matching up pretty even right now.
Capt. Hollis Forrester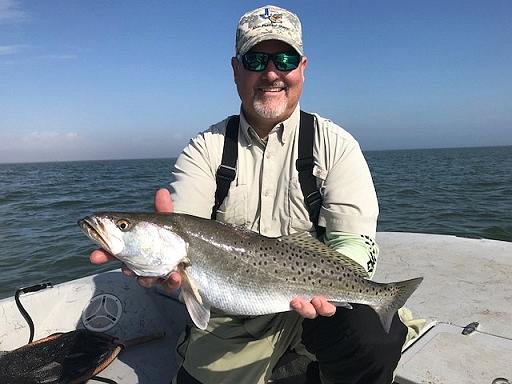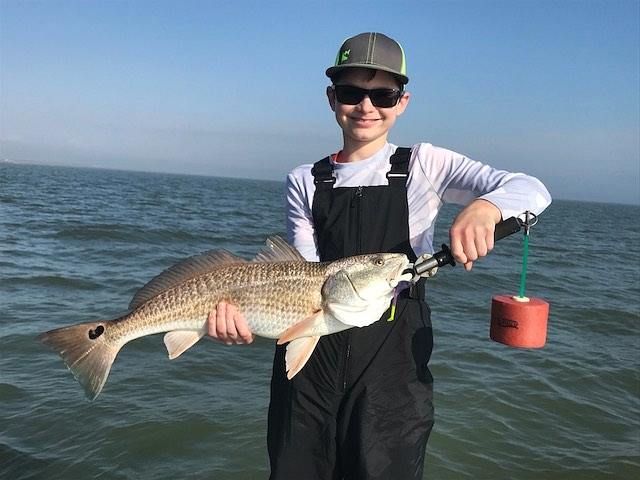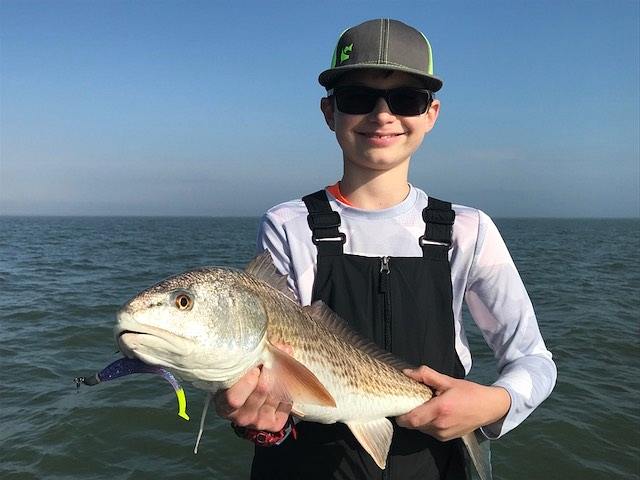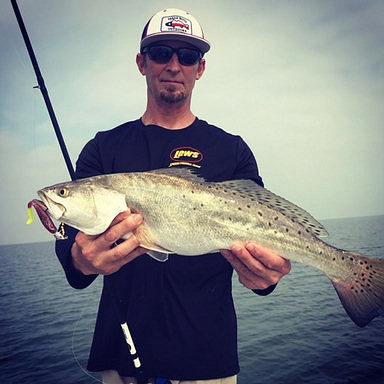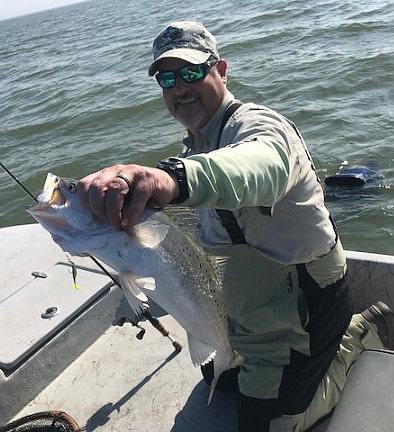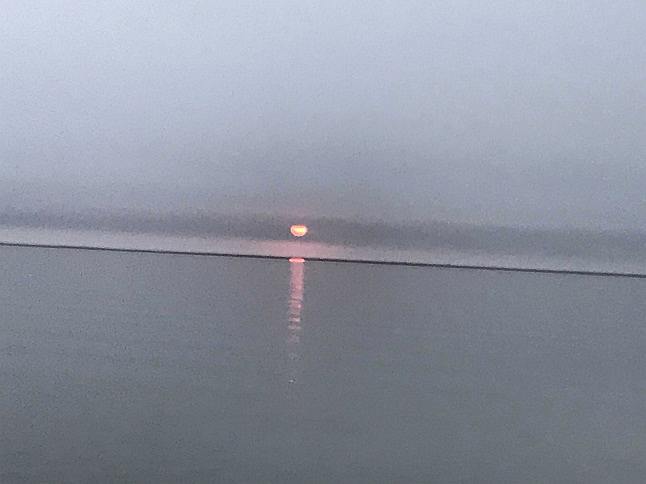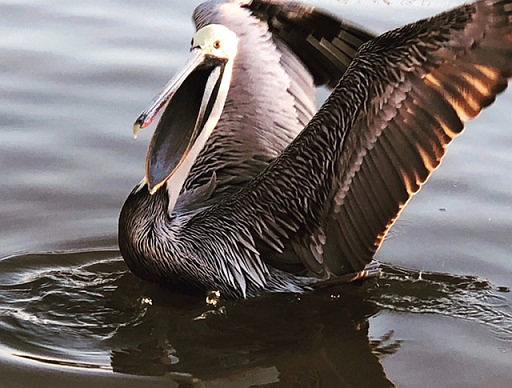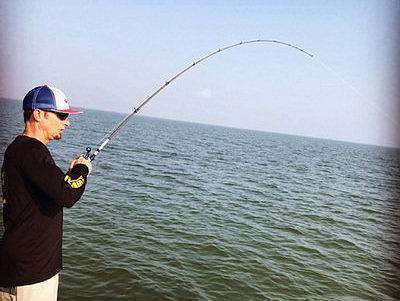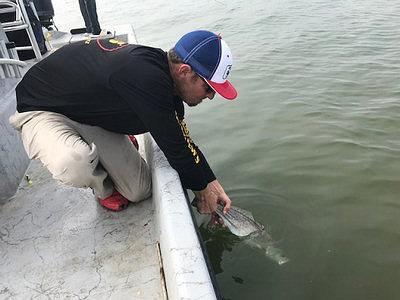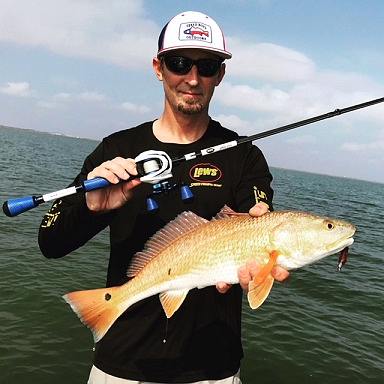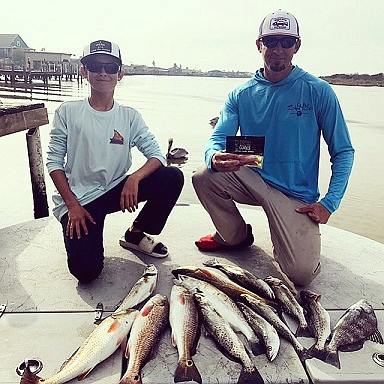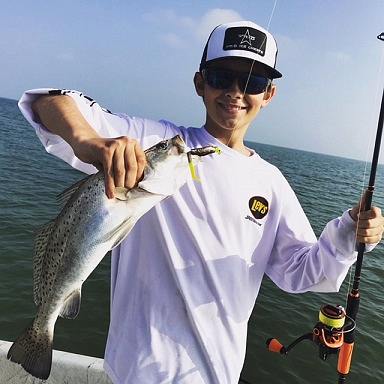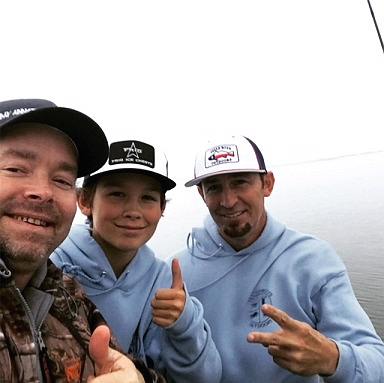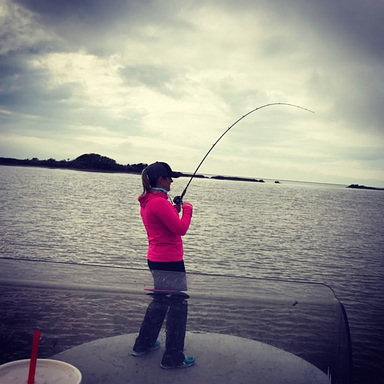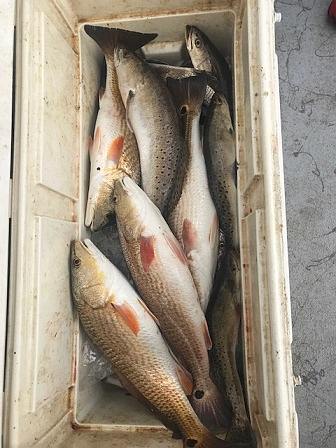 Dec. 17 -- Winter time patterns and quality fish "A Great Read Here"!
OK, so I'll begin....... We are in Full Throttle Winter Time Here, Here is the really cool part of the past week. You may think these fish are gorging on finger mullet or shrimp but not so, and it took me a few days to figure out due to the stomach contents of the fish that have been either empty or completely full of these little miniature skeletons that looked like either sand eels or small ribbon fish and how I figured that out was the funny part. Myself and some clients of mine were pulling a drift mid bay and noticed a few gulls picking up these little creatures and I was convinced that it was definitely sand eels due to being just that time of the year when the bay will be loaded with them from a fresh hatch that I usually mark the Christmas time period that will cause the birds to go nuts and actually go back to working again for another month or so until they get too big. Well my old rule is to always match with whatever the fish are feeding on with whatever artificial I'm throwing. I have a variety of Down south Lures and being that I just knew it was san eels I began throwing "Spicy Pumpkin" and without a bump for the next few hours, meanwhile huge hungry Trout were encircling us like bull sharks on a strong feed. You could literally see these big fish "Flash" a I call it which is when they will show their whole side as a quick flash as a make an attack on whatever they are eating at that moment. My clients had switched over to a plumb/truce and immediately began picking up several nice Trout up to 27" for the rest of the day with some really nice fish that we turned back. I was still not totally convinced on what the fish were totally feeding on until the very next day "It was heaven" sent. Like a gift from God a hungry lone Seagull dipped down and grabbed him one of these dudes, flew over my boat and dropped the little silver ribbon fish on the bow of my boat, which was about 3" long and perfect size that these trout would love, and I definitely knew that the fish would not be leaving this area. When this happened I was like a kid in a candy store finding that perfect Down South Lure to match the hatch so I could begin to hammer these fish, and I did have that color with an exact match. Myself and my clients will not be changing lure colors much for another month or so when i go into this area, because I know what exactly they are going to eat, and definitely now have a stock pile of them "LOL". Anyhow it was a great happening so I figured I'd share and get a little long winded with yall.
Now is the time, "The Beginning" of catching that trophy fish of a lifetime. From now through April we will be catching 7-9lb + fish plus on a regular basis. I have the Trophy Trout habits in the bay down to a science because I am out here daily, and trust me this is going to be a record breaking year. I myself in my fishing years have not ever seen the bay in such great shape with the healthiest and fattest fish in such large numbers. I'd say Hurricane Harvey was a terrible thing to us humans but man did it not ever do Mother Nature such as the back marsh areas and little bayous a justice and created one of the biggest hatches of shrimp, etc in the Matagorda Bay Complex has seen in years, truly amazing.
The beauty of catching these big Trout and Redfish is that you do not have to wade for them in order to catch them. That is probably one of the biggest mis-conceptions I hear in the fishing world. Of coarse wade fishing is one of my greatest passions in life, but It's not necessary so if you are not a wade fisherman or have kids it's no biggie, versatility is something I had to learn long ago!
Lets not forget about the Redfish or the flounder that are also thick in the bay and the inter coastal right now also. There is nothing better than that hard fight a Redfish will give you or the excitement or the excitement of thinking your reeling in a lump of Oyster shell and i when you get it in that it turns out to be a big saddle blanket Flounder. It's hard to beat Redfish on the half shell or a slow cooked Flounder on the grill, talk about good eating! It's not just the big Trout that are out here now, I am catching may slot Trout also so it's a huge variety.
I am going to end this for now but for sure don't forget to take a kid fishing and introduce someone new to the great outdoors, this is for everyone out here and the sunrises and sunsets are breath taking.
On a side not, from now through winter and spring I'll be launching out of Sargent TX. It's quick access to the areas I'm fishing right now and if your coming out of Houston and College Station, etc. It's much closer for you. Don't Forget to ask about the Winter Time Special. Come on out here and join the fun out here. Thank You so much for reading the Report, and looking forward to many more.
Capt. Hollis Forrester 979-236-3115
capthollisf@gmail.com www.capthollisforrester.com
Also check out my facebook page for some up to the minute reports and how to's at
Matagorda Bay Fishing And Hunting Guides
#outcast_rods #7dayaddiction #Downsouthlures #Grindterminaltackle
If your in the market for an awesome rod that I've been field testing for over a year be sure to check out www.outcastrods.com with Matthew Harmon. His rods are amazing and can make you any type you need. His Slime model is an amazing plastic, corky, and Top Water Rod.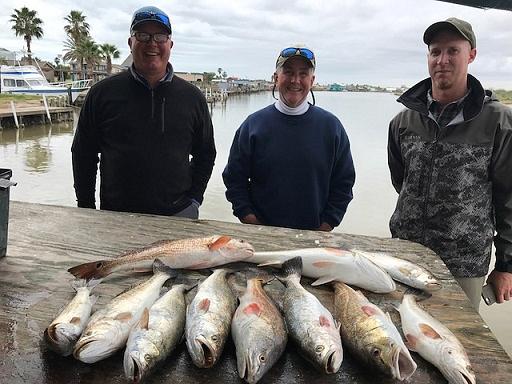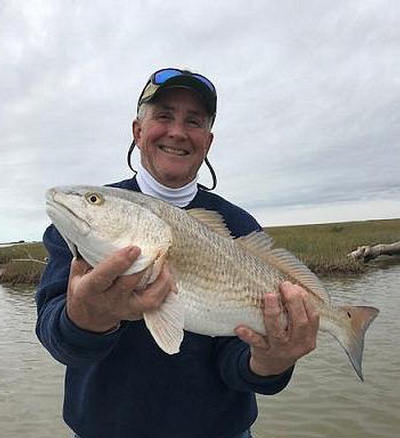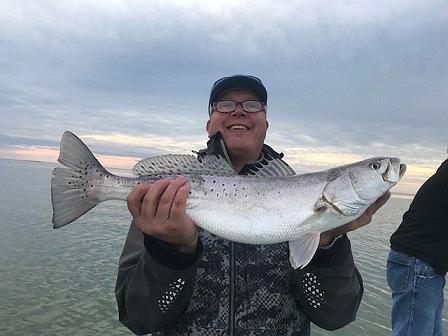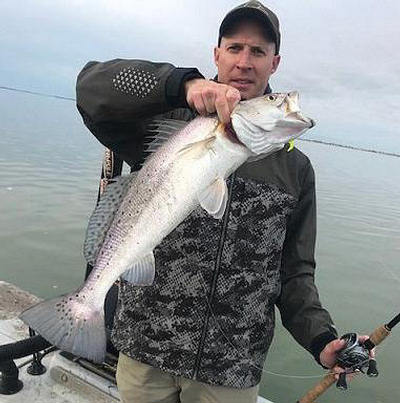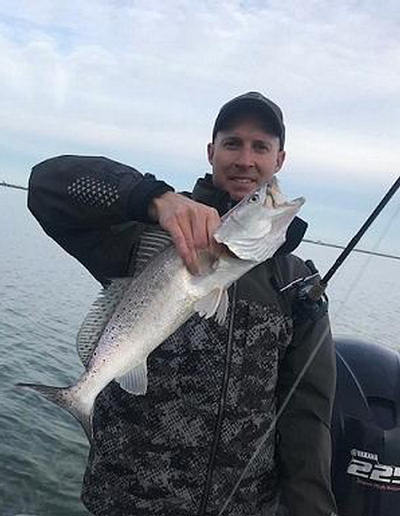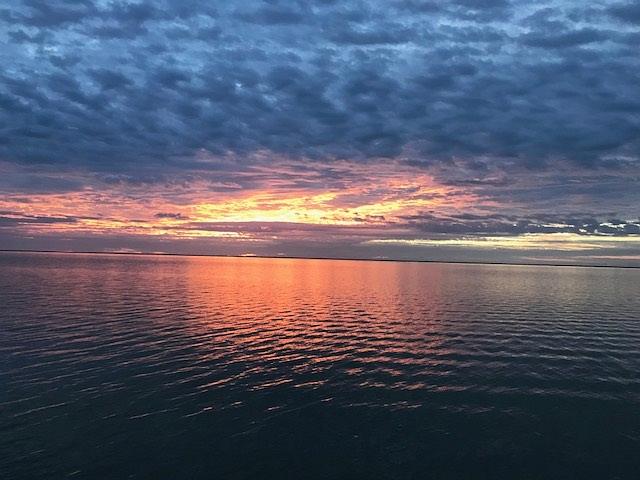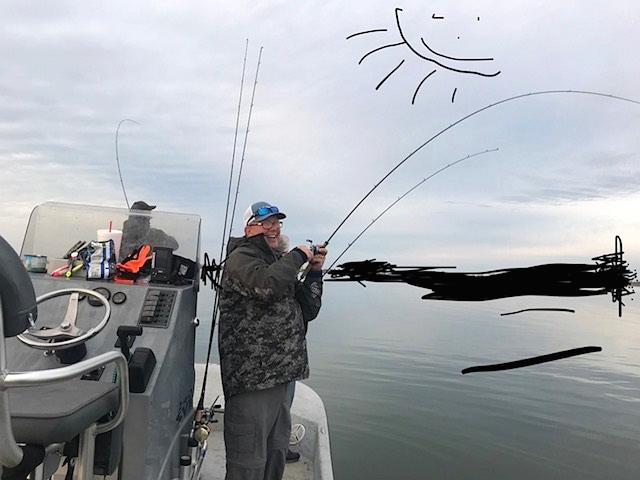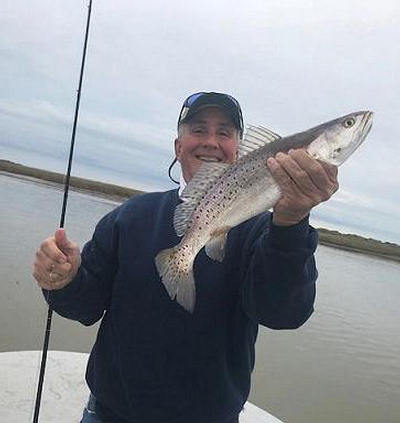 Nov 24 -- Epic days out here and it just seems to keep on getting better. I have fished 4 days in a row with clients until yesterday which was Thanksgiving so I decided to roll out to the deer camp, and each day has produced limits plus on Trout and Reds. I am not by any means bragging, I'm just trying to tell you how good the fishing has been out here. A few of those days scared me a bit with the mornings starting off with no wind and the fish not really wanting to fire up at daylight as they have been typically doing, but I could set a timer to go off everyday this past week and the feeding would begin. I've really been enjoying that start off time on the bite really, because it's been giving us the time to kick back, take some photos and get everything prepared without having to get in a hurry and enjoying the beauty out here, because the sun rises have been beautiful!
As of now the wade fishing and the drift fishing have been pretty much the same. Drifting and wading the drop offs and cuts with active bait activity and also some bird working to mix all that up has been my go to. The fact is the fish are pretty much feeding on one thing and that one thing has been shrimp. The Bay and the intercoastal are holding record amounts of shrimp this year and I'm going to blame this on Hurricane Harvey due to the extreme amount of water that was pushed way back in the marsh and back lakes that have probably not seen water like that in years. What you get when that happens is a very strong hatch of shrimp that are slowly getting blown out of those areas every time we have a strong cold front blowing down the Tx coast . All of this just creates a perfect scenario for a strong healthy complex with awesome fishing.
Well sure appreciate you reading the reports and looking forward to many more. I Have some really quick openings that have just became opened due to a client getting sick, they are Nov 3o'th and Dec 1'st. Also Have scattered dates opened in December and January, give me a shout and we'll surely find you a date. "Ask about my winter time specials" and don't forget it's that time of year to be starting off fishing for those big girl Trout. It's going to be an epic year for the hogs because we are already on them and not going to be uncommon to be landing 8-9lb Trout on a regular basis.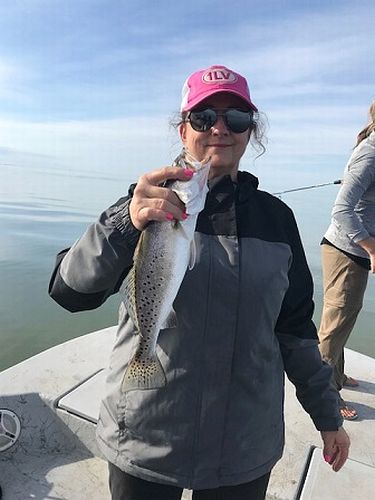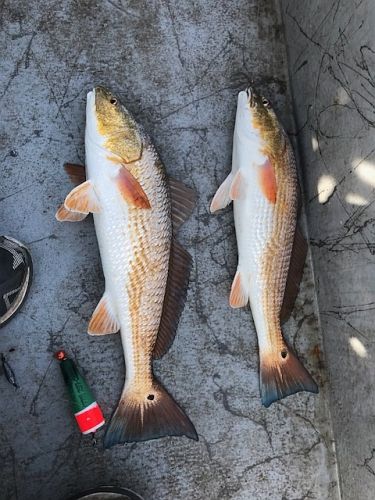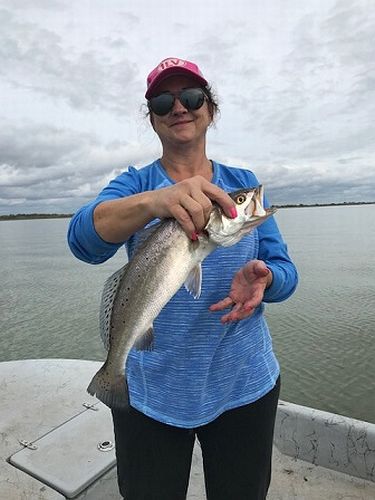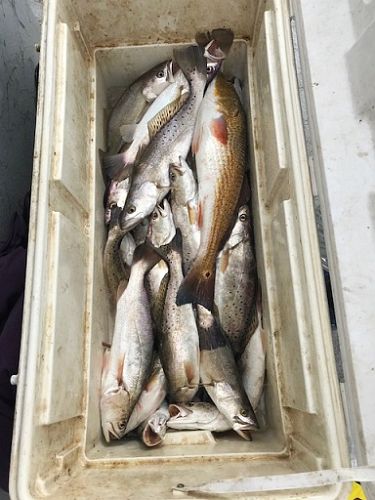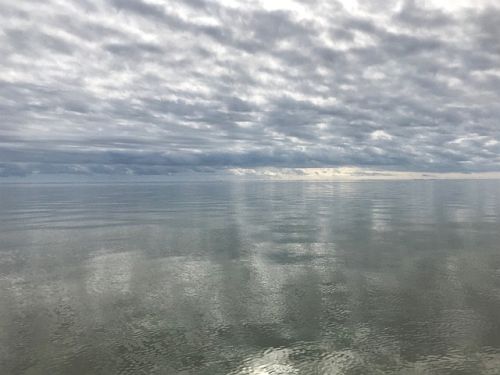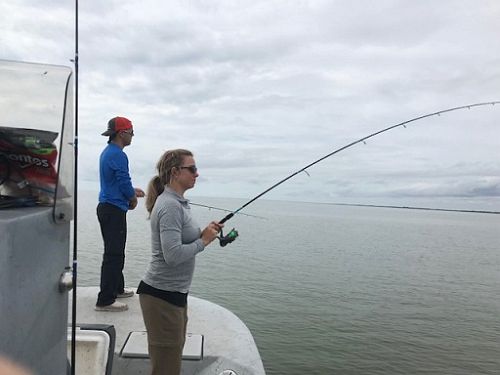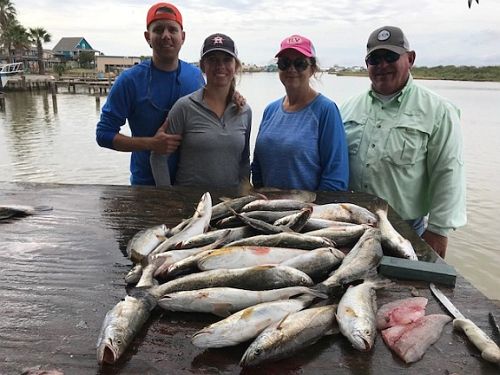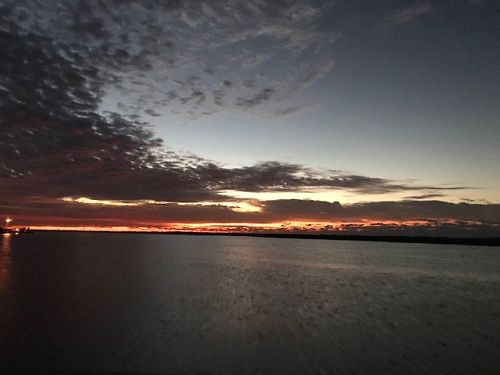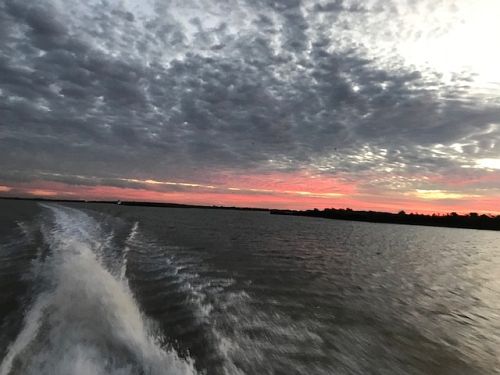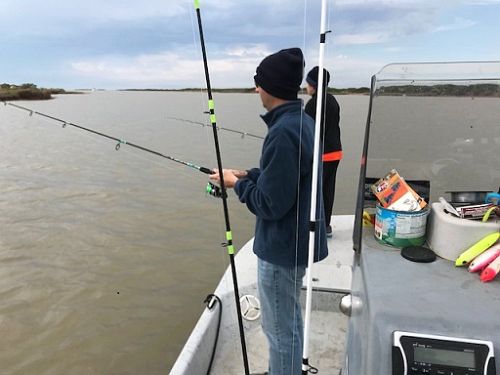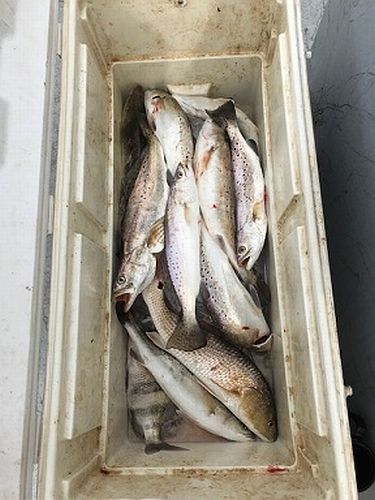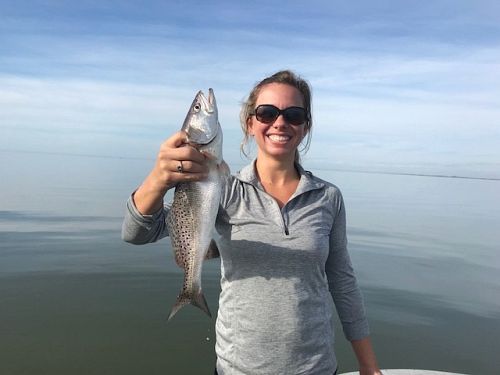 Nov 14 -- Thanksgiving will be here before too long, but we've already been having our feast out here on the bay and let me tell you it's been fun. The fishing has been great both from the boat drifting or wading on the flats. While drifting I've been locating working birds or slicks and fishing large schools of Trout and Reds using downsouth lures or if my clients prefer live shrimp Its been hard to beat them under a rattle cork plus we can use Gulp the same way. As for wading, the top water bite has been great the first hour of daylight. This past week I dont think that I've ever seen a stronger top water bite than that, what a site to see no doubt. When the topwater bite slows down switching over to a plastic such as a down south really pays off. The Trout and Reds are super fat right now, and we are already on solid trophy fish right now, it's just going to get better, It's not going to be uncommon for us to be on 8 to 9 lb Trout consistently this year, a banner year because the eco system is in such great shape.
I appreciate you all reading the report and get a hold of me for a great day on the bay. Don't forget to take a kid fishing and introduce someone new to the great outdoors.
Our best months are here and also coming up.
Capt. Hollis Forrester - 979-236-3115 - www.capthollisforrester.com - capthollisf@gmail.com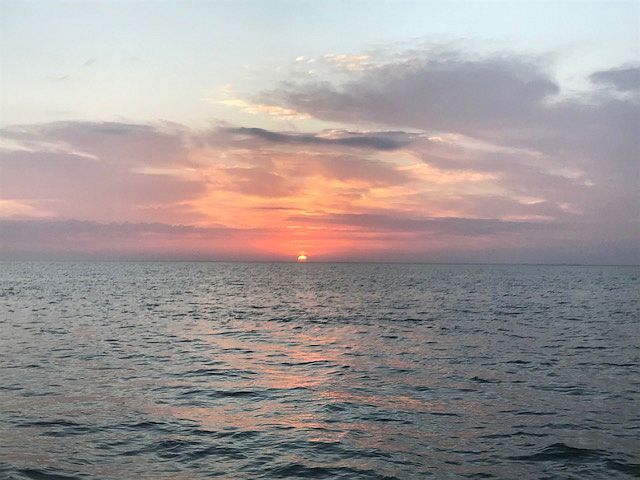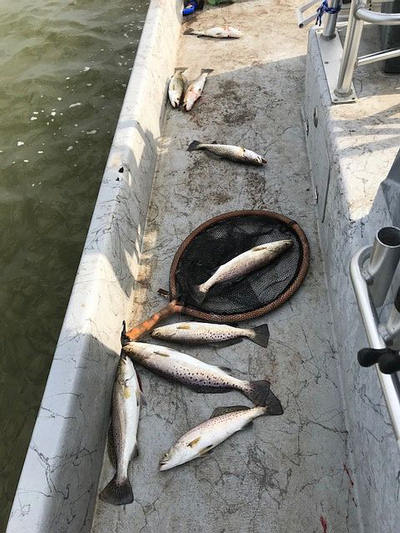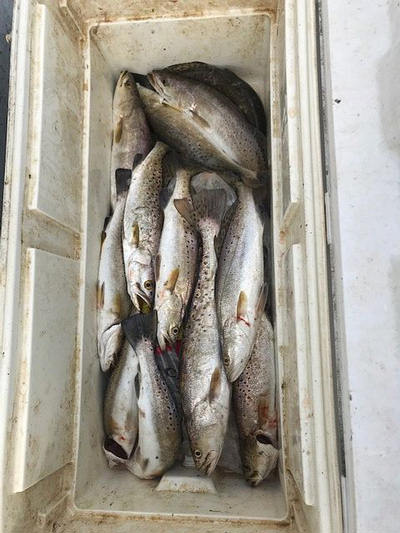 Nov 6 -- Well our fall time wading and drifting the birds has began. Half of these fish were caught wading and the other half drifting with quality fish! Everyone of these fish ate a Down South Lure plumb or spicey pumpkin. The Bay is full of shrimp and the Complex is healthy so be ready to go chase a hog with me or just have a blast fishing the birds! I have dates open in November and December,no doubt primo months. Give me a shout for a great day on the bay.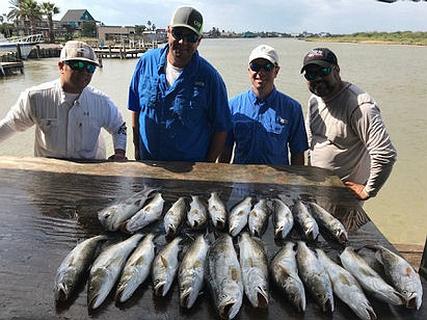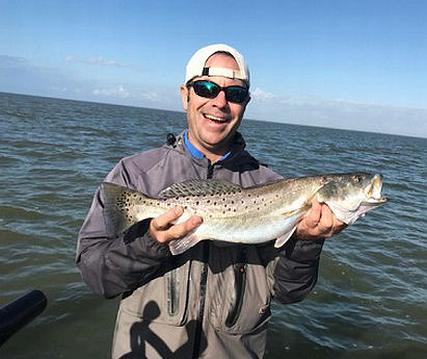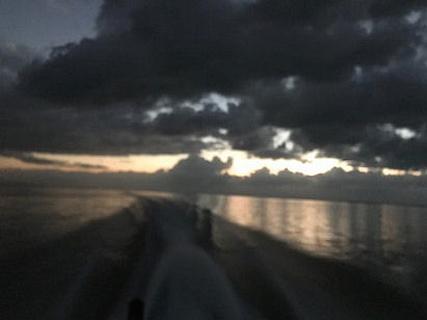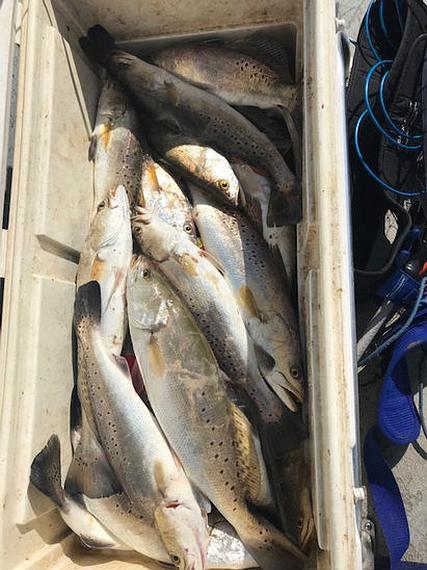 Oct 30 --- Yesterday's trip was the day of what I call our first major cold front that hit and finally knocked some water out of the bay with the strong North West winds . The funny part about this trip and with all the fish we caught is that the fish did not bite until the front came in and those 30+ mph winds kicked off. When that happened it kicked off some excellent fishing with probably over 100 reds caught and plenty of Trout. We fished until we were limited out on our fish and then the winds got stronger and I could not get the power pole to hold so therefore it was time to go but what a heck of a time it was. Anyway to get back to what's happening out here now being that we have finally gotten some water knocked out of the bay, this means from now through winter our birds are going to be working over flushed shrimp and fry that are now knocked out in the bay and it is now the time for epic fishing under working birds and also the kick off time to begin our Trophy Trout fishing, " No Doubt The Next 3 Months Are My Favorite Times Of The Year ". My tactics are going to change some, for my drift fisherman we'll be fishing under working birds which is a blast with live shrimp, gulp and Down South Lures, and don't forget, Kids love this or someone that is new to the game because they will be hooked for life when they get to experience fishing working birds in the bay. My wade fisherman will be throwing, Downsouth Lures, Corkies and top waters catching those Big Mama Trout, Reds plus Flounder because they are in the bay thick right now . The Trout are already very nice and fat right now and I'm definately expecting a record breaking year for the numbers of 9-10+ lb Trout that are going to be caught this winter. I've got there number and will be definately fishing in the areas where they will be haunting. For you drift fisherman , don't think just because you can't wade that you can't catch these bigger fish because you can. These bigger Trout , Reds and Flounder don't just stay in the skinny water, they will go deep daily, some of the biggest trout I've caught have been out of the boat drifting under birds and over the right structure. That's all I have for now and remember to take a kid fishing and introduce someone new to the great outdoors, they'll not ever forget it.
Thank You for reading the report and looking forward to many more.
Capt. Hollis Forrester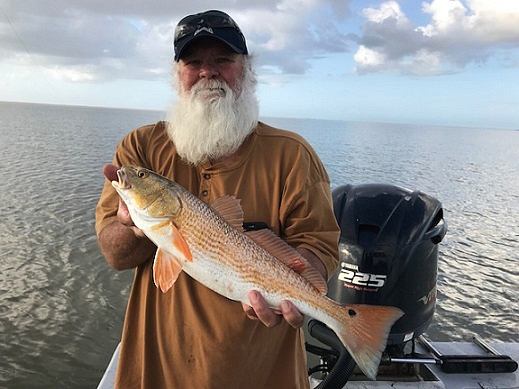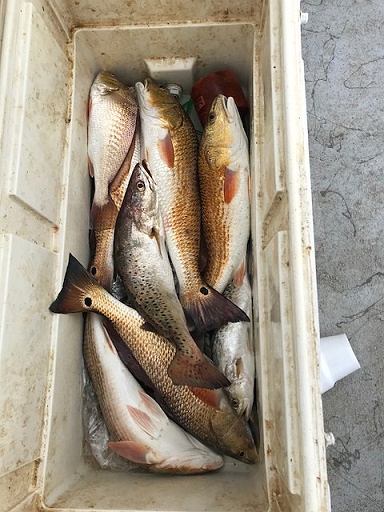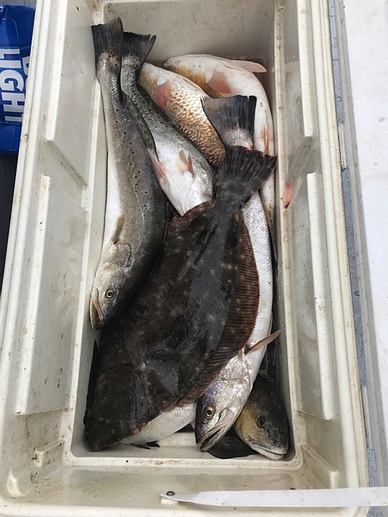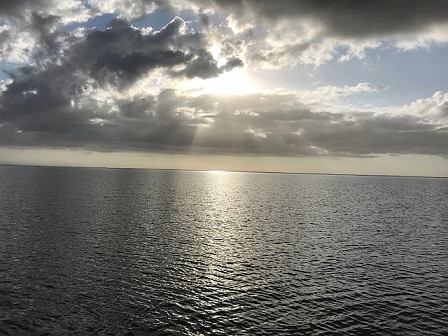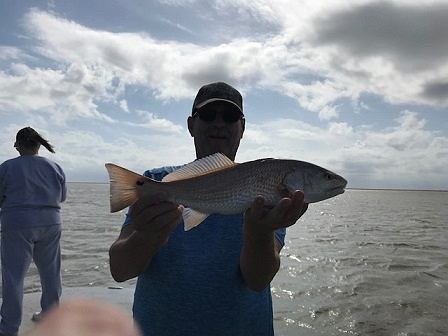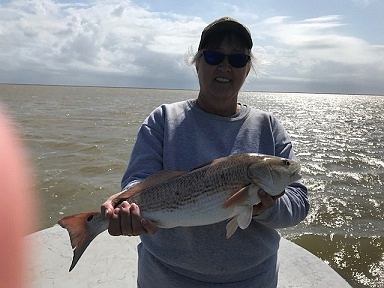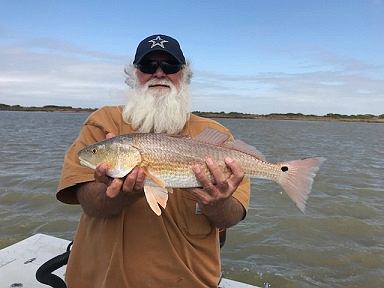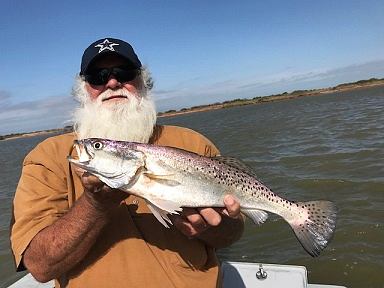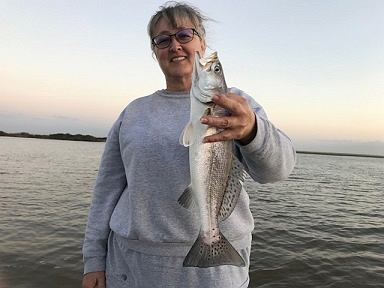 Oct. 24 --- The cooler mornings have been awesome here lately, but I am not the only one that has been loving it, the fish love it more. I'll begin with our wade fishing trips, because our top water bite has been outstanding with the little spook Jr's over the scattered grass beds. When the top water bite lays off it's been hard to beat a Down South Lure with an 1/8 oz jig head just burning it over the grass to keep them from hanging up, but that is where the fish have been while wading, up tight to the grass and shore lines due to here the past 2 weeks we've been facing our yearly equinox tides which are around 1' plus above normal mean tide. The Bay is loaded with shrimp right now and I have not seen East Matagorda Bay in better shape within the past 15 years according to all of my journals I keep with documented trips by the day. I most definitely see a Matagorda Bay record breaking Trout being caught this year by some lucky angler, because it's just going to happen. Our Flounder are pouring in by the gourds, and every trip I've ran the past 2 weeks we have had plenty of Flounder go into our ice chest. Drift Fishing has been great to as we drift over deeper shell pads and clam piles using a rattle cork rigged with either a Gulp Shrimp or just a regular good ol Live shrimp, nothing will pass up a shrimp in a bay, plus the kids just love to get their lines pulled all day, It keeps them busy.
I do have one day open in October which Is the 25th, and In November I have several scattered dates open but they are slowly getting picked off a little bit at a time, and in December there are several scattered dates opened there too. Don't Forget, November and December plus January are our prime months for just general fishing and for going for that monster Trout of a lifetime, they are there and we are going to go after them.
I'll be launching in Sargent Tx through winter and will be fishing East Matty mostly so if your coming from Houston, Bryan, College Station your going to love the drive because its much closer to you guys than having to haul all the way to the Harbor in Matagorda.
I appreciate you reading the reports and stay tuned for more to come.
Capt. Hollis Forrester 979-236-3115 capthollisf@gmail.com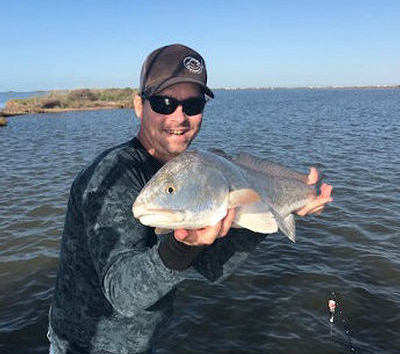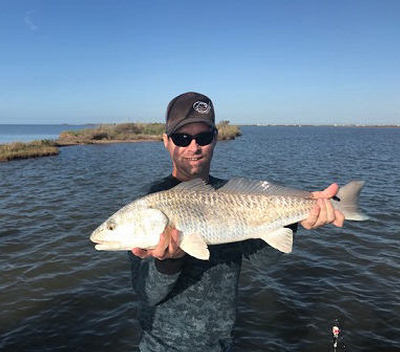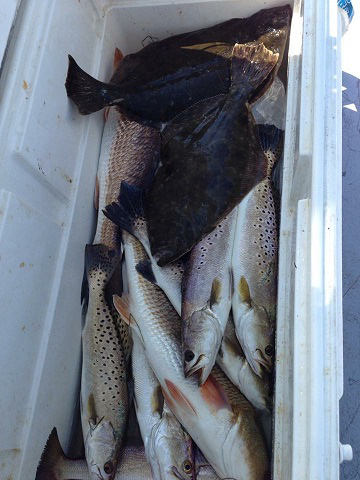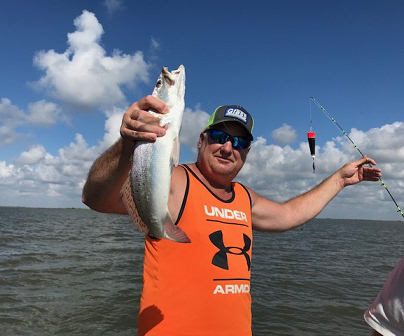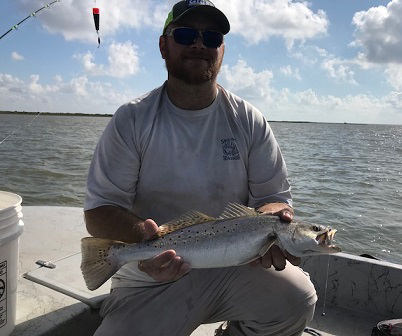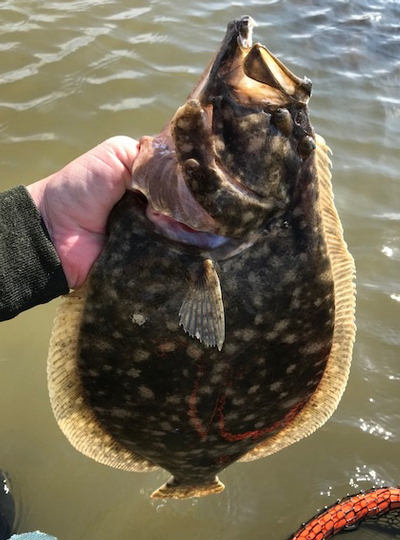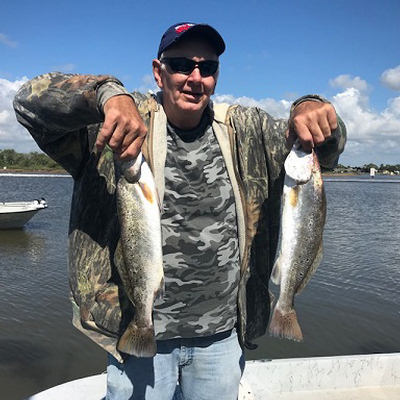 Report: Oct 8, 2017 --- As the Equinox tides roll in "October" Mother Nature is making her move to push water way back in the marsh to make the hatch for the next generation of small fry such as young Reds, Trout, Flounder and Shrimp and everything else you could think of that lives in the bay. After the Equinox tides sit on the eggs to make the hatch, which is what we are having right now, the small fry get of age just in time for a good little SouthEast Texas cold front to blow the water out of the complex and push the youngsters into no mans land which is the bay where every predator out there will begin feeding on them causing the birds to work. It creates some of the best fishing of the year due to the large schools of Trout, Reds and Flounder joining in on this action. During these times me and my clients will be drifting birds and slicks using Gulp and Live Shrimp plus doing lots of wade fishing on the flats throwing top waters and plastics for trophy Trout. Last Fall and Winter was absolutely banner for our huge Trout, but I tell ya, this season will be even better due to the numbers we've been catching all Summer in which the size of our Trout for summertime fish were extremely heavy for that time of year. The past few weeks my wade fishing trips have been awesome with good numbers of Trout,Reds and the Flounder are moving in thick, we surely cant complain. The drifting has been fine also specially in the mornings until around noon or so. I appreciate yall reading the reports and stay safe out there. Take a kid fishing and lets get out here and fish.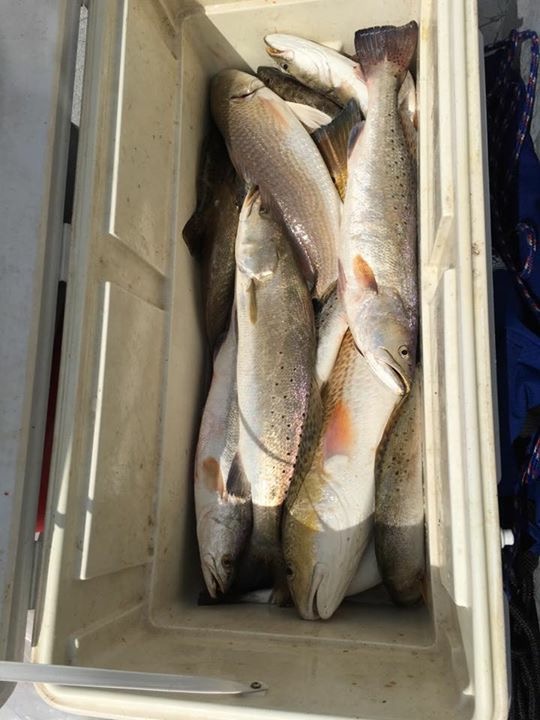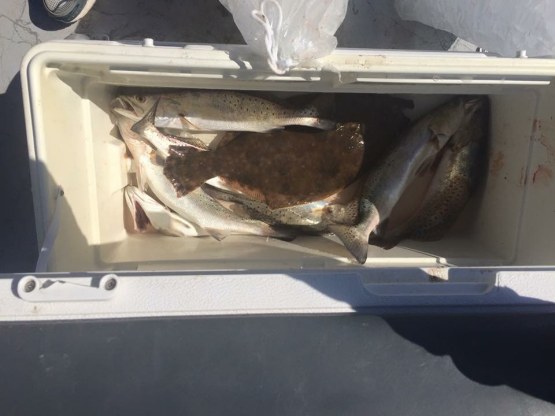 Report: 09-17-17 ..... It's been a while since I've been on here posting a report but we've prevailed and adjusted due to Hurricane Harvey taking its toll on us. My home town In the Brazoria area did not fair so well with all the flooding from the Brazos and the Bernard but we are tough people and do not ever give up and going to make it through this . The upside is we are back to work , Sargent Tx faired out very well and the bays are in excellent shape. East Matagorda is such a tight locked Bay that the inundation of fresh water from all the rivers never touched it and the salinity level in the bay is in great shape. I've gotten back started fishing this past week and man let me tell you it feels so good to get back out here after all the hell we faced the past 3 weeks . The Wade fishing has been fabulous throwing artificials such as Down South Lures over the grassy flats in the morning. The drift fishing has been great for us too while drifting over some of the deeper shell beds using Rattle Corks and Gulp or plastics slow jigging over the shell. The Bay had been flushed and rejuvenated , its Gods way of cleaning out the system and let me tell you he did one hell of a job doing it this time, because our Fall fishing is going to be out of this world . The birds are going to be working full fledge any day on those large schools of small shrimp coming out of the marsh, now that is going to be some fun fishing chasing those birds around and slapping them Trout and Reds in the boat . Gear up and join me for a great Fall , this is for everyone so don't forget the kids and introduce someone new to the great outdoors, you'll love it out here . Thank You for reading my report and God Bless All Of You that have had to deal with the repercussions of this terrible storm we've just gotten through with and I pray for all of you . Stand strong and help your friends through this, we are Texans and we don't quit , "Never"!
For Available dates contact me at :
Capt. Hollis Forrester
979-236-3115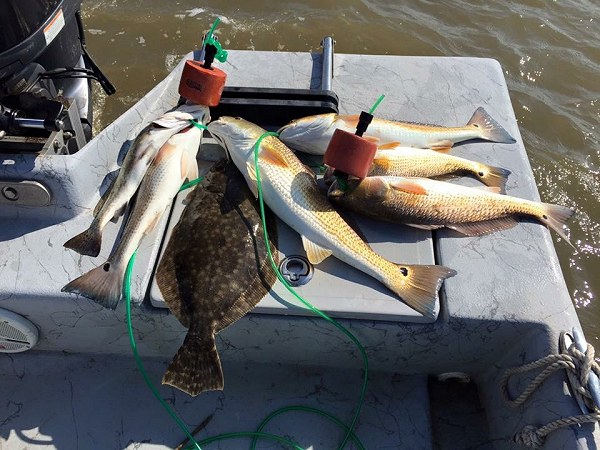 Report: 8-23-17..... We began this week with some really light North winds which made it fairly easy to drift or wade. The wade fishing has been producing lots of quality Trout and Reds using Down South Lures. Drift fishing has been on fire likewise with easy limits of slot Reds and Quality trout likewise using Gulp or live shrimp under a rattle cork or a Down South with a 1/4 oz. jig head. The Bay is loaded with shrimp right now and I've already been fishing working birds attacking live shrimp. Yes, this is very early for this to be happening, but I see us having a spectacular September, October and November because of the bay is thriving so well. I've just been making long drifts through the sets of working birds and slicks. This style of fishing is so much fun with the non stop action plus you can fill up an ice chest pretty quick. For my waders I've been setting upon areas that are holding thick pods of finger mullet and shrimp, find the bait like that and you definitely find the fish. The wade fishing is gong to be awesome in September and so is the drifting, well it really already is. My September and October still has some great openings available but grab them while you can, we are getting into prime times of the year. As I always say in every report, children are always welcome on my boat. I am a firm believer of getting the kids started early, but it's never to late so take a kid fishing and introduce someone new to the great outdoors, the fishing out here is for everyone! I appreciate all of you reading my reports and looking forward to many more, the good days have just began.